In addition to releasing iOS 4 on Monday, Apple also released its newest app for the iPhone, iBooks.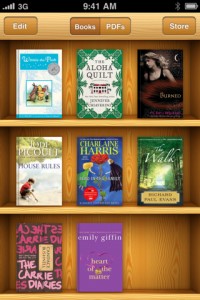 iBooks for iPhone gives users the same functionality that iPad users have enjoyed since early April. You can purchase and read books on the iPhone in exactly the same way.
The interface for iBooks is the same as the iPad version too. Purchased books are presented like book covers with the ability to purchase books from Apple's online Store.
The new iBooks also gives users the ability to read PDFs from within the application, a feature that was demoed by Steve Jobs at WWDC.
iBooks is a free app and is available from the App Store.