Apple on Monday introduced iPhone 4, which will go on sale in the US, UK and Japan on June 24, 2010. Preorders are expected to begin on June 18, and it will cost as little as $199 for qualified buyers.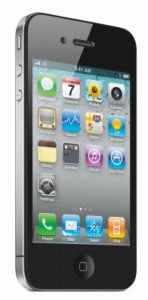 The iPhone 4 sports a 960 x 640 pixel display – four times as many pixels as the iPhone 3GS, and the highest pixel density ever available on a phone – 326 pixels per inch. The display and back are made of aluminosilicate glass that has been treated chemically to be 30 times harder than plastic.
The iPhone 4G measures 9.3 millimeters thin, and is surrounded by a protective stainless steel band that doubles as an antenna for Bluetooth, Wi-Fi, GPS and cell phone communications. iPhone 4 also has support for 802.11n networking and quad-band HSUPA cell communications, which will provide up to 7.2 megabit per second downlink and 5.8 megabit per second uplink speed as network providers enable that capability.
Other new features include front and rear-facing cameras and an LED flash; the backside illuminated sensor lets you take pictures in low light environments. It also records video, and can be paired with a new iMovie application to be made available in the App Store for $4.99. FaceTime is a new app included with the phone that lets you have video calls with your contacts using Wi-Fi (and another iPhone 4). The new iPhone has a second microphone and software designed to help reduce background noise in loud environments.
iPhone 4 also sports a 3-axis gyroscope; paired with the accelerometer it provides 6-axis motion sensing, which Apple claims can be used for gaming and other apps.
iPhone 4 also has a battery with increased capacity; Apple says it works for up to 7 hours of talk time on 3G networks, up to 10 hours of Web browsing on Wi-Fi and up to six hours on 3G, and up to 10 hours of video playback and up to 40 hours of audio playback. Under the hood is an Apple A4 microprocessor, the same kind of CPU found in the new iPad.
The device runs iOS 4, the newest version of the operating system that powers iPhones, iPads and iPod touches, which touts multitasking, folders, improved e-mail capabilities, better support for enterprise connectivity and other enhancements. iOS 4 will also be made available for other devices for free
AT&T is allowing users in the United States who have contracts which expire any time in 2010 to upgrade up to six months earlier than their contract would otherwise allow. The iPhone 4 will be available in 16GB and 32GB capacities for $199 and $299 respectively, and it comes in black and white finishes.
In related news, the iPhone 3GS 8GB model will be available for $99 starting on June 24.