We were all wondering what surprises Steve Jobs would have for his WWDC keynote — how about Steve Ballmer on stage.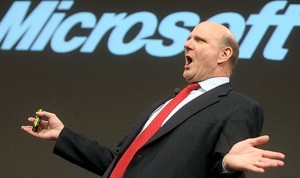 Trip Chowdhry, an analyst with Global Equities Research, says that Jobs will give Ballmer seven minutes of his keynote to speak to attendees, according to Barron's. Ballmer will reportedly speak about Visual Studio 2010 and its ability to write native apps for the iPhone on Windows.
Ballmer could also talk about Silverlight and dozens of other topics, but it seems if Apple lets Microsoft make native apps for the iPhone and doesn't let Adobe do the same thing, there is going to be trouble.