Apple is on quite a buying spree this week. The company's newest reported acquisition is mobile app assistant firm, Siri.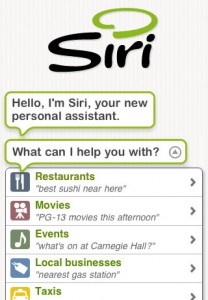 Siri says its app understands what you say, accomplishes tasks for you and adapts to your preferences over time. An example on its Web site says that you can ask Siri to find a romantic place for dinner, tell you what's playing at a local jazz club or get tickets to a movie for Saturday night.
Siri was reportedly founded by "veterans of the telecom, mobile, artificial intelligence, and semantic technologies."
Details of the purchase were not available.
Apple on Tuesday bought Texas-based chipmaker, Intrinsity, which is believed to be the company behind the chip that powers the iPad. The purchase price for Intrinsity is believed to be $121 million.