Google on Thursday said it would bring free turn-by-turn navigation to Apple's iPhone. The revelation came during a press conference in the U.K. where the company announced the feature for Android phones.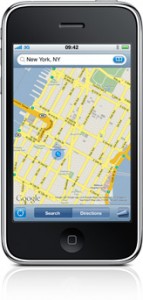 One of the biggest changes users will find from traditional navigation systems is that Google Maps will not download and store the maps on your phone. Instead, Google will download the maps on-demand, meaning you'll need a data connection.
There are a number of navigation apps available for the iPhone already, including several from some of the larger companies including Tom Tom and Magellan.
Google is not worried in the least about how their free service will affect the other companies, saying they had "become complacent and that they will now be forced to innovate."
The company didn't mention the iPad, but considering the app is available on both the iPhone and iPad, it would make sense to bring it to both devices. Google also didn't say when the feature would be available.