Apple announced Tuesday that the iPad Wi-Fi + 3G model will be available to those who pre-ordered it early on Friday, April 30, 2010. It'll also be available in Apple retail stores on the same day, starting at 5:00 PM.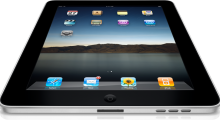 The 3G model has the ability to communicate using AT&T's 3G data network in addition to a Wi-Fi network. It costs $130 more than the Wi-Fi only model.
In order to work over 3G, users need a data plan that incurs an additional monthly fee, although there are no long-term contractual obligations as there often are for cell phone service plans. Two tiers of service are available – a 250MB/month service for $15 and an unlimited monthly service for $30.
The Wi-Fi only model is not upgradable to 3G – the 3G units sport a Micro SIM card and corresponding slot that enable them to work on AT&T's data network.
Apple has been telling customers that the 3G version would ship in late April for some time, but this is the first confirmation of a solid date for those systems.
Apple more recently sent out notifications to some customers who pre-ordered the 3G model later than others that their units would ship in early May.
In related news, Apple indicated that the iPad is coming to Australia, Canada, France, Germany, Italy, Japan, Spain, Switzerland and the UK at the end of May. Apple will also announce international pricing (and begin taking online pre-orders) for the iPad on May 10th.