Instead of just posting my top ten favorite apps, or only a list of apps that I like, I decided to break down the apps that I've tried into ones I liked, didn't like, hated, and wondered where they were. I'm sure there are apps in each of these categories that you've tried that I didn't make it to yet, but this is a good place to start for me.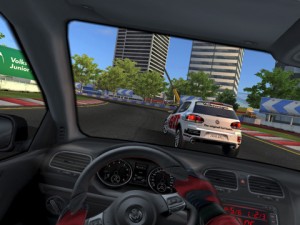 Good
WSJ: The Wall Street Journal's iPad app has caused some controversy since it's release, mostly for its pricing model. Subscriptions to the iPad version cost more than for the online version, but still it's the best news app I've used so far. Navigation of the newspaper is very intuitive — swipe up and down for the sections, and side to side for the stories.
Real Racing HD: I'm not much of a gamer, but I absolutely love racing games. This one is incredible. It has a lot of features, like automatic breaking and acceleration that gives a chance to get used to the game before taking on all of the controls yourself.
iWork: These were the first three apps I bought for my iPad (Pages, Keynote and Numbers). For me, the ability to get things done on the iPad is what makes it an invaluable tool and not just a plaything. I can write stories and do real work on the iPad, thanks to iWork.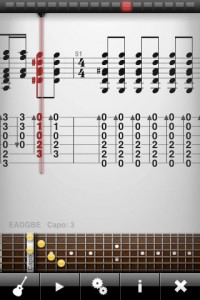 Scrabble: My family is addicted to Scrabble on the iPad. Nine times out of 10, when I can't find my iPad it's because someone in my family is playing scrabble (or they are playing together).
NewsRack: No big surprise that I'm a news hound. NewsRack has a great interface and it syncs with Google Reader, giving it all the features I need to keep up-to-date with my favorite sites while using the iPad.
TabToolkit: This is a must-have app for guitarist. You can go to any site and download Guitar Pro, Power Tab, PDF and text guitar tabs from within the app. You can then play the tab and watch the notes or tab being played. It even has a fretboard on the bottom of the screen showing you which notes are being played.
VNC Lite: I have a number of computers in my house, so being able to connect to them on the iPad, like I do on my computer is important for me. This does everything I need, quickly and easily.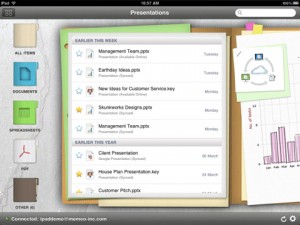 Twitterrific: I use Twitterrific on my iPhone, so I was glad to see the familiar interface on the iPad too. I do wish I could do things like Reply All, but I'm satisfied with the app so far. It's one of the first ones I looked for when I got my iPad.
GoodReader: One of the things I wanted to do with my iPad is connect to sites like MobileMe and Google Docs, so I had access to my files. GoodReader gives me access to those and many other services, so I'm never without access. I can also open my docs in Pages, Numbers and Keynote on the iPad, which is one of the best features.
Memeo Connect: I had a chance to see this before it was released and loved it. The interface is great to use and very simple. With an update this week, you can use iWork on the iPad to open files on your iPad directly from Google Docs. This is a must-have app.
Bad
USA Today: I was looking forward to using the USA Today apps, but it just doesn't cut it. It's basically a one-page app that doesn't allow you to change sections to see technology news or another section that you might be interested in.
AP News: The AP app is beautiful, but it seems like they spent more time making it look good and not enough time making it work good. I get a great sense of space and design, but not a great sense of news.
WordPress: I love WordPress. This site is run on WordPress, but I was so disappointed when I downloaded this app. WordPress for iPad doesn't support copy and paste, so I can't write a story in Pages and then bring it to the app to post. That's just silly. There are also other basic features missing that would make the app useable.
Ugly
Facebook Ultimate [I'd link to the app, but it's gone]: Wow, this is the worst app I have ever seen. I installed it, tried to use it and got so frustrated, I deleted it. There is absolutely nothing about this app that makes sense, nothing! It should never have been made.
Where the hell are they?
Facebook: It's not like the iPad launch date was a big surprise, so where is the Facebook app for the iPad? I love Facebook and never even considered that there wouldn't be an app on day-one.
Tweetie: I know that Twitter just bought Tweetie and negotiations were ongoing during the iPad launch, but still, there should have been a Tweetie app for iPad on day one.