Apparent Corp. announced Tuesday that it's shipping Doxie, its document scanner for Mac OS X and Windows. It costs $129.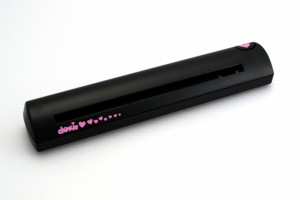 Doxie is designed to be light and portable, weighing a scant 10.9 ounces, both connecting and drawing power through a USB 2.0 interface. It can scan at up to 600 dots per inch (DPI) with automatic page detection, and includes software that provides scanning and direct "cloud"-based sharing capabilities. It also works with Google Docs and other software.
You can save files in JPG, PDF or PNG formats, scan photos, crop, rotate, adjust contract and clean up images before archiving them. The device works using a multi-function "heart" button on the case.
A case is included, along with software, USB cable, photo scanning sleeves, user guide and a pack of six designer skins to help you customize the look of your Doxie.
System requirements call for Mac OS X 10.5 or later.