In terms of the daily wear and tear that can occur with a laptop's keyboard, there are many things to consider. Between dust, light, crumbs (should you nibble while you type), or just the oils from your fingertips that naturally occur, adding some level of protection may help prolong the life of your keys as well as your computer. While there are quite a few options available, iSkin offers their ProTouch keyboard protectors that balance protection with comfort that minimizes the sense of using any covering at all.
The covers use special Microban protection that is much more than a marketing gimmick. A germ-resistant stain-reducing antimicrobial helps to keep your keys looking and working well.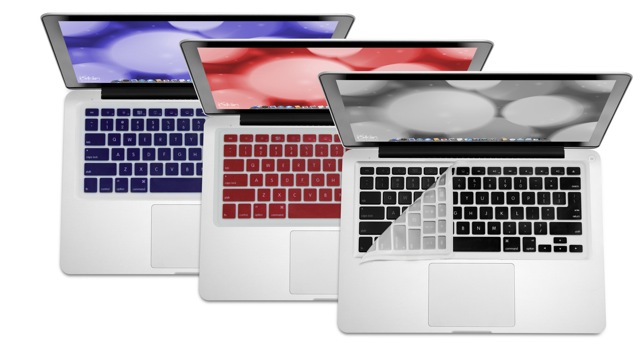 The protectors stay flexible and maintain their appearance very well. Like other iSkin products, the ProTouch protectors fit as if they were Apple's own and drop perfectly into place without any gapping or adjustment once seated. The washable material is thin enough that there is no notable resistance to the keystrokes and they have a smooth, yet responsive finish with just enough texture so that your fingers don't slip off the keys.
The FX version of the ProTouch adds color to the keys while allowing the backlit keyboard to emit light adding contrast to the keys. This is a very nice feature for those who look at their keyboards while typing. I did find that my MacBook Pro operated at a slightly warmer temperature while using the ProTouch, but it was not significant enough to be a problem.
These are not only useful protection for your keyboard, they can add a bit of personality, too, with several colors and styles to choose from in this line.
ProTouch Models include the Classic for $24.99 USD, FX with colorized keys for $29.99, and the Vibes models with some funkier style for $34.99. The iSkin ProTouch is good protection – with style – for your keyboard.