Apple on Monday said that consumers could purchase an iPad at several locations on April 3, including Best Buy.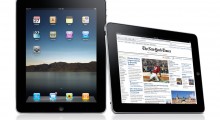 It's been rumored for some time that you would be able to purchase the iPad at Best Buy stores, but Apple hasn't official confirmed until today. Apple noted the device would be avialable at "most Best Buy stores, select Apple Authorized Resellers and campus bookstores."
It's also interesting to note that Apple's retail stores will host special iPad workshops, helping users learn about the device.
Of course, the iPad will be available this Saturday.