The Settlers 7: Paths to a Kingdom is TransGaming's latest Mac release. The game is available for purchase and download using TransGaming's GameTree Online download service. It costs $49.99, and a "Gold/Collector" edition costs $10 more.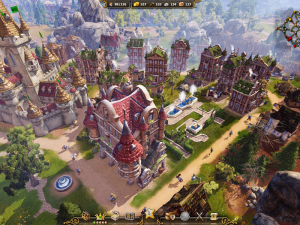 Published by Ubisoft, "The Settlers 7: Paths to a Kingdom" is being released simultaneously on Mac OS X and Windows platforms. It's the latest installment of a popular real time strategy game series developed by Blue Byte Software. You begin by building a village and expand it to create a thriving kingdom. To do so you have options: You can build a conquering army, research technological improvements, or occupy the best trade routes on the map.
The Gold Edition includes unlockable content, an exclusive map, additional castle forge elements and the game's original soundtrack.
The Settlers 7 is rated E for Everyone by the ESRB. System requirements call for, curiously, Mac OS X 10.6.3, which had not yet been released to the general public as The Loop posted this article. Other requirements call for an Intel Core 2 Duo or faster processor, 2GB RAM, 8GB hard disk space, ATI Radeon 2600 or Nvidia 8600 with 256MB VRAM or better.