Apple has entered the consumer marketplace with several products, but one analyst expects the company to delve even deeper into the market with a connected-HDTV.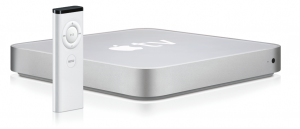 In a research note sent to clients on Tuesday, Piper Jaffray Senior Research Analyst, Gene Munster said Apple is well positioned to enter the television market. Munster said the reason Apple would enter the market is simple — money Home entertainment is a $31.8 billion business.
"As connected TVs proliferate the integration of hardware, software and content will become a key selling point for TVs," wrote Munster. "We believe Apple is uniquely positioned to combine these elements at competitive prices ($2,000) for an Apple-branded TV."
While Apple does have a great content delivery system with iTunes, it is lacking the live TV feature that satellite and cable companies offer. Munster believes Apple could overcome that with a subscription service priced between $50-$90.
"Apple's ability to deliver hardware, software and content that could replace an entire entertainment system with a single TV puts the company in a unique position for the emerging connected TV cycle," said Munster. "And with a device ecosystem of over 74m iPhones and iPod touches sold (as of Dec-09), Apple could bring portability to the TV industry."