Whether you're a seasoned digital photographer or an amateur looking to step up from iPhoto, chances are that Apple's Aperture software can help you dramatically. Now in its third major iteration, Aperture is easier to use and more powerful than ever. One of the first major questions that digital photographers of all stripes may have when first confronted with Aperture is, "Why do I need this?" The short answer is that Aperture lets you get a lot more out of your digital photos than you can get with iPhoto.

Apple describes Aperture as "Pro performance with iPhoto simplicity." That's not to imply that Aperture has in any way been "dumbed-down" or stripped of features – in fact, hundreds of new features have been added. But its user interface better exposes important features and it's less intimidating than its predecessor.
There's no sense in running through the long list of new capabilities in Aperture 3, but there are certainly a few that stand out. Here are just a few of the highlights:
Retouching
A hallmark of Aperture's functionality has been its ability to allow you to non-destructively edit your pictures – you can crop, straighten, adjust white balance and color, and do many other things to your photos without worrying that you're going to overwrite the original. You can even work with external photo editing apps (like Photoshop) to further refine your images.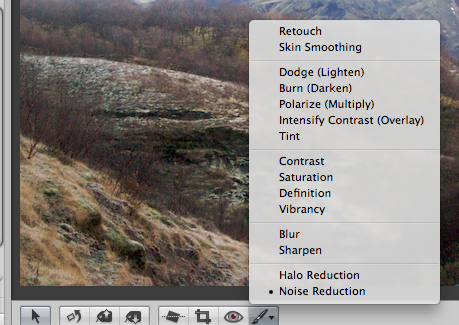 That hasn't changed, Aperture 3 adds non-destructive brushes to the palette of available tools. You can brush in (or brush out) dodge and burn effects, polarization, tint, contrast, even halo and noise reduction. Apple's also built in support for pen-based tablets.
Thanks to a new raw file processing engine – more on that a bit later – Aperture can also reduce halo, or discolored fringes produced on overexposed areas on photos shot with certain types of lenses. It can also tackle chromatic aberration – color fringing that occur on edges of objects in photos. What's more, Aperture 3 enables you to save adjustments you use frequently, and import and export them.
A new Curves tool helps you adjust exposure and color by manipulating luminance and RGB or each color channel. You can brush in curve adjustments rather than applying them to the whole photo, and you can set your own custom points as well.
Finding your photos

One of Aperture's strong suits is its ability to manipulate the IPTC metadata that's carried along with individual digital photos. Aperture 3 makes it faster to find your files by expanding the scope of what it will look for, including keywords, caption, file name and more.
You can search by label or filetype (find me all TIFF images, or all JPEGs), search through specific project paths, and now you can even identify photos by whether they've ever been exported, printed or e-mailed.
Faces and Places
Carrying over from iPhoto '09, Aperture 3 adds facial recognition features, but expands on what iPhoto can do. You can set Aperture to recognize faces in a single project rather than an entire library, you can export names you've associated with faces as an IPTC keyword, identify unnamed faces, and more.
iPhoto '09 has taken some knocks for its facial recognition – sometimes the feature doesn't work as intended (or at all) depending on factors in the photo. It's worth noting that Aperture 3's facial recognition is improved compared to iPhoto '09. The feature is especially handy when it comes time to organize your photos and you've taken large sets of family photos, and you need to comb through afterwards to find particular individuals.
Places is another feature that was first introduced with iPhoto '09. You can now organize photos by where they were taken, creating maps of your photo journey. If your camera doesn't support GPS (many less expensive models do not) but if you have an iPhone or a dedicated GPS device, Aperture can help you integrate GPS data into your photos after the fact. This comes in particularly handy if you want to print your photos using Aperture 3's new Photo Essay or Journal themes, which let you print books complete with customized maps showing readers where you took your pictures.
Raw file compatibility overhaul
To get the most out of your digital camera, you need to be able to access the "raw" digital image – the equivalent of a negative. The Mac has to understand how this file is formatted, and that's handled by a system software component separate from the Aperture application called Digital Camera Raw Compatibility Update.
Apple has taken knocks in the past for being slower to respond to new camera releases than Adobe, which makes a competitive program called Lightroom. But concurrent with Aperture's release is a major new Digital Camera Raw Compatibility Update – jumping from 2.7 to 3.0. It's not just iterative: Apple's gone back to square one, redesigning the raw processing engine from scratch.
The redesigned engine enables Apple to perform adjustments to images that weren't possible with the prior engine, adding features like chromatic aberration and halo fixes. And for photographers investing in new gear, Apple is now capable of supporting new cameras more quickly.
The proof of the pudding, it is said, is in the eating, so how well does this re-architected raw engine actually work? If anecdotal evidence on a couple of digital photography Web sites (Faded & Blurred and Luminous Darkroom) is any indication, it turns out that the new engine works quite well: Aperture 3, paired with the latest Digital Camera Raw Compatibility Update, is producing images with less noise and finer detail than Adobe's product, at least in these cases.
They're off to an auspicious start: Digital Camera Raw Compatibility Update 3.0 and 3.1 were released only a few weeks from one another.
Video and audio
Many newer DSLR cameras enable you to capture video and audio along with still images. Aperture 3 now supports that capability, allowing you to import and make some changes to those files. As with still images, you have the option of designating an external video editor (such as iMovie or Final Cut Pro) if you'd prefer to make more changes than simple clip trimming.
Custom output options
Aperture 3 adds new slideshow capabilities and now integrates support for export to popular blogging sites Facebook and Flickr. MobileMe export has been enhanced with caption support, and you can now publish video clips from Aperture to MobileMe galleries.
Once you've organized and edited your photos, you'll want to output them. Aperture has added support for social networking sites where you're likely to post or share photos, like Facebook and Flickr.
Printing to photo books has been a core part of Aperture for some time – useful for professionals who want to do short-run custom jobs, such as wedding photographers. New themes have been added, and you can now print a 13×10 inch size book to impress friends who see it on your coffee table.
Aperture 3's extensible architecture now supports plug-ins from leading boutique custom book printers, so you can send your print jobs directly from Aperture to Couture, Graphistudio, Leather Craftsmen and Queensberry. It's not cheap, but this makes it much easier for pro photographers looking to really wow customers with amazing printed output.
A rough start, but smooth sailing ahead
Aperture 3's release was marred by some problems that were almost immediately corrected with 3.0.1's release and a ProKit 5.1 update, both of which should be available (along with the latest Digital Camera Raw Compatibility Update) through Software Update or via the Apple support Web site. And while I don't know anything for sure, I'm certain that Apple has a development roadmap for Aperture 3 that includes more updates to come.
A couple of the digital photographers I stay in touch with have been plagued by some lingering stability and performance issues, but I have to say that I haven't had any issues whatsoever, playing with the full version on a 2009-era Mac Pro or the trial release on the latest MacBook. I'll admit, however, that I'm playing with relatively small libraries, and I have neither the talent nor the will to use the software to its fullest potential – I'm strictly an amateur dabbler.
But having said all that, I'm really impressed with Aperture 3. Having used the software since its first iteration, I can say without reservation that this is the biggest step forward for Aperture since its initial launch.