Video training company Groove3 on Monday released two new Pro Tools training videos.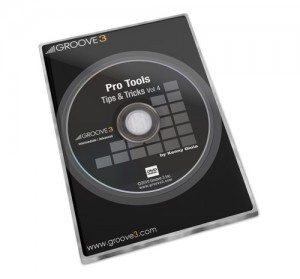 Pro Tools Tips & Tricks — Vol 4 is the latest in the company's popular series on providing short clips on using Pro Tools. The videos are recorded in Pro Tools 8 and run almost three hours.
The man behind the camera in the tips and tricks videos is longtime audio engineer (and one of my personal favorites) Kenny Gioia. He takes you through many topics, including punching in, using effect sends and returns, automation, edit tools, edit modes, plug-ins, fades and crossfades and templates.
The second video is Structure Explained, done by Russ Hughes. Targeted from beginner to intermediate users, this video will take you through navigating windows and menus, loading and creating patches and parts, applying filters, modulation, effects, utilizing "Smart Knobs", key switching, and building custom drum kits, among other things.