Global Delight lived up to its name for me when I saw them at Macworld Expo in San Francisco earlier this month. The company develops an all-in-one camera app for the iPhone that adds some impressive capabilities. Now they've announced the release of Camera Plus Pro 2.0, which enables iPhone 2G, 3G and 3GS users to record video. Best of all it's only $1.99.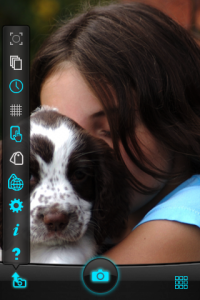 The iPhone 3GS is capable of recording video by itself using Apple-provided software, but the iPhone 3G and the original iPhone lack this capability. What's more, Camera Plus Pro connects users with YouTube, Facebook and Twitter, making it easier to share those videos (and still images) with friends and family over social networking services.
Camera Plus Pro provides a different interface for taking pictures and sports a slider that lets you zoom. You can increase and decrease brightness – helpful for compensating for the iPhone's lack of a built-in flash – along with other functions for retouching images to improve their quality.
Video is the centerpiece of the new 2.0 release, so other new features include the ability to password-protect individual videos and video geotagging.
System requirements call for an iPhone with iPhone OS 3.1 or later.
Requires iPhone OS 3.1 or later. Works with iPhone 2G, 3G and 3GS with OS update.