Aspyr Media has announced the release of Star Wars: The Force Unleashed Ultimate Sith Edition for the Macintosh. It's now available in retail stores, but you can also purchase it online and download it through Aspyr's GameAgent service.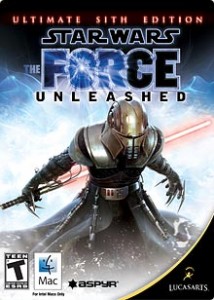 Star Wars: The Force Unleashed is a third person action game set in the world of the Star Wars movies, between the events depicted in the movies "Revenge of the Sith" and "A New Hope." You are a "secret apprentice" of Darth Vader. Vader trains you in the ways of the Force with the secret goal of assassinating Emperor Palpatine so he can rule the galaxy for himself. Of course, the plot quickly becomes more convoluted, and you eventually cross paths with familiar characters in familiar settings.
While The Force Unleashed originally came out for video game consoles in 2008 (a version was also produced for the iPhone), "The Ultimate Sith Edition" is a more recent creation that only debuted last November for Windows, and now for the Mac. It adds three additional single-player missions that continue the story line, new costumes for the Secret Apprentice and new character models that let you play as many legendary Star Wars characters including Luke Skywalker, Obi-Wan Kenobi, C-3PO and others.
System requirements call for Mac OS X 10.5.8 or later, Intel Core 2 Duo 2.4GHz or faster, 2GB RAM, 26GB hard disk space, ATI Radeon HD2600 or Nvidia GeForce 8600 or better 3D graphics with 256MB VRAM, DVD-ROM drive. Microsoft's Xbox 360 Wired Controller is supported as a gamepad (but not required).