Apple went on a well publicized purge of "sex apps" over the last few days, removing an estimated 5,000 applications from its App Store. The latest victim is a swimsuit designer from the UK.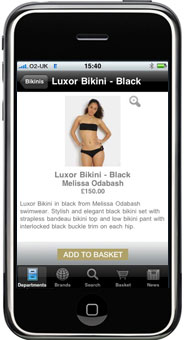 Simply Beach was notified that its app was being removed from the App Store on Monday. The shopping app contained images of the swimwear, beach accessories and cover-ups that the company sold in its store.
"To be honest we thought it was a spam joke," said Gerrard Dennis, the Managing Director of The Simply Group who operates Simply Beach. "We then checked iTunes to find the app had in fact been removed. It seems like political correctness gone mad. It's just women in bikinis, swimsuits and kaftans."
Dennis said they resubmitted the app and asked Apple for clarification, but received no reply yet.
"The images on the app are no more sexual than you would find in any Sunday newspaper, and there is no age restriction on buying those," said Dennis. "There are plenty of sexual apps in iTunes and to categorize our shopping app as one is ludicrous."
While many agree with Apple's move to rid the app store of apps that show scantily clad women, some have also warned of the slippery slope Apple is heading down.
Obviously, overtly sexual apps are not the only way to view this type of material on the iPhone. You can use Safari to search for much more graphic porn on the Internet and even Mail can be used to send and receive porn images.