Based on Apple's recent quarterly earnings, it's no surprise that the iPhone is gaining ground on its competitors.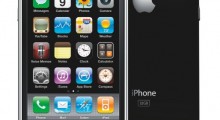 A new report from market research firm, Gartner, says the top five mobile phone vendors experienced a decline in sales in 2009. In all, the top five combined market share dropped from 79.7 percent in 2008 to 75.3 percent in 2009.
For example, Nokia dropped from 38.6 percent to 36.4 percent, Motorola dropped from 8.7 percent to 4.8 percent and Sony Ericsson went from 7.6 percent to 4.5 percent.
Symbian remains the No. 1 mobile operating system, but it too is slipping. Symbian went from 52.4 percent in 2008 to 46.9 percent in 2009. RIM jumped from 16.6 percent in 2008 to 19.9 percent in 2009 and Apple's iPhone OS grew from 8.2 percent to 14.4 percent.