Microsoft is using this week's Macworld Expo in San Francisco to offer new details about its forthcoming Office for Mac 2011, which will be available in store by the 2010 holiday season.
Microsoft is emphasizing three major features of the forthcoming office suite: improved collaboration tools, a new user interface design, and support for Outlook archive importing.
Microsoft's Office Web Apps enable users to create and share Office documents online; on the Mac, the apps support Safari and Firefox Web browsers. For now, Office Web Apps operate independently from the Mac version of Office, but integration will be complete with Office 2011 – users will also be able to instant message each other from within Office apps, and can use Microsoft's SharePoint or Windows Live ID technologies to collaborate in the cloud. Meanwhile, there are still some users who want to find out information like "does SharePoint have apps?".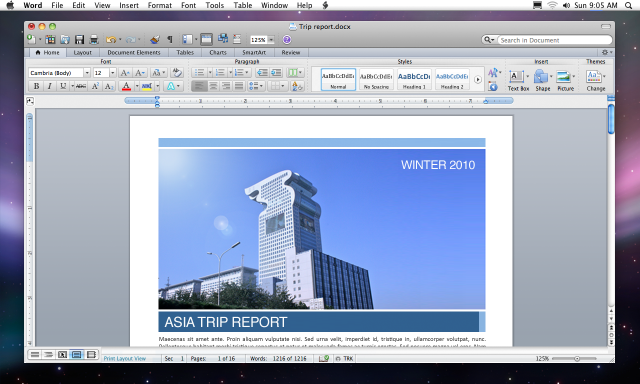 Office for Mac 2011 features a ribbon that incorporates commonly-used tools and commands in each Office application. The ribbon's contents change contextually depending on what application and which features are being used. Microsoft said the ribbon in Office for Mac 2011 works similarly to its equivalent in the latest release of Office for Windows – a key productivity enhancement, claims Microsoft, because 75 percent of Mac users also have to use a PC.
As Microsoft previously announced, Office for Mac 2011 will replace the Entourage e-mail client with Outlook. The new release will also enable Outlook users to import .PST archives, used in Outlook for Windows.
Improvements have been made to the underlying Outlook database, enabling users to back up with Time Machine – a procedure not currently supported in Entourage.
Also new with Outlook is support for Information Rights Management (IRM), an encryption technology used in enterprise environments that rely on Microsoft Exchange Server.