At this week's Macworld Expo in San Francisco, Navigon AG is previewing the 1.50 version of their MobileNavigator application, a GPS direction finding app for the iPhone. New features include 3D terrain views, social media integration and "intelligent routing."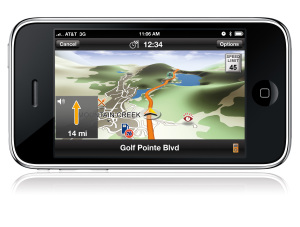 Panorama View 3D utilizes 3D terrain views generated from data provided by NASA. the full 3D view provides an accurate depiction of the surrounding environment, according to Navigon, complete with elevation, shadow and geographic image data. The data is in the map application, so it's not downloaded over the iPhone's data connection. Panorama View 3D will be available as an in-app purchase for $9.99.
MyRoutes analyzes your driving data and generates custom routes accordingly. It will provide up to three choices with distance and estimated time of arrival displayed in-map.
You'll als be able to broadcast your location, destination and estimated time of arrival to Twitter and Facebook instantly from within the application, without interrupting navigation.
Navigon is offering MobileNavigator for $20 off, $69.99, until February 15. They're also offering the Traffic Live in-app purchase for $19.99 ($5 off).
Macworld Expo attendees can visit Navigon at booth 575 at Macworld Expo on Thursday – Saturday.