Apple on Wednesday introduced the long-rumored iPad, a new touchscreen device. The iPad is priced starting at $499, and Apple plans to make the iPad available within 60 days.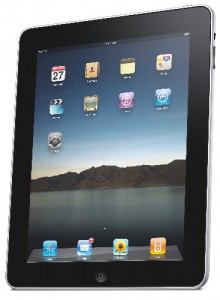 The iPad will be available in three capacities, 16GB, 32GB and 64GB, with or without 3G data connection capabilities. Without 3G, the iPad is priced at $499, $599 and $699; with 3G, the iPad costs $629, $729 and $829. 3G-equipped models will be available 30 days after the introduction of the Wi-Fi-only systems.
The iPad features a 9.7-inch display that uses In-Plane Switching (IPS), the same LCD panel technology found in new iMacs (it provides a wide angle of view and more accurate color reproduction). Inside is a 1GHz A4 microprocessor developed by Apple, and it has 16GB to 64GB of flash-based storage capacity. It measures one-half of an inch thick and weighs 1.5 pounds.
The iPad comes equipped with 802.11n Wi-Fi networking, Bluetooth 2.1+EDR, a 30-pin dock connector, speaker, microphone, accelerometer and compass. Apple estimates the battery life will last for 10 hours of video playback, with a month of standby charge possible.
The 30-pin dock connector enables the iPad to interface with a Mac or PC the same way the iPhone does, synchronizing and backing up all content, including media, contact and calendar information and applications.
Wireless connectivity
The iPad features 802.11n Wi-Fi networking capabilities, but it also communicates over 3G data networks, similarly to the iPhone. Offered to U.S. users through AT&T, the iPad will work using a $15 plan that nets up to 250MB of data per month, or $30 for an unlimited data plan. Either plan lets you use AT&T Wi-Fi hotspots for free. The 3G service can be activated on the iPad at any time, and requires no contract.
Apple CEO Steve Jobs noted that the iPad, unlike the iPhone in most countries in which it is sold, is being sold with an unlocked GSM micro-SIM card, which means that it will be able to operate on any GSM-equipped cell service provider with whom you have a data plan.
Software
The tablet device runs iPhone software downloaded from the App Store without any modification necessary, and can upscale the graphics on those applications to two times their iPhone resolution to help fill the display. There's already been some early third-party development of applications designed to work on the iPad – Electronic Arts and Gameloft were featured at this morning's event, showing off games designed for the iPad for example.
Apple is also launching e-books – called iBooks – that feature more book-like designs and color support, two things missing from Amazon's lauded Kindle device. What's more, Apple will support ePub, an open e-book standard also supported by other e-book device makers like Sony.
iWork, Apple's suite of productivity applications, has been redesigned for the iPad, with Keynote, Pages and Numbers developed to support the iPad hardware and user interface, and with document compatibility with the Mac version. It will cost $30 for all three apps (or $9.99 for each of them individually).
iPad Development
The larger area of the iPad and its capacitive multitouch interface, permits more than just two-finger pinches and zooms – users can draw and perform more sophisticated input commands using the interface.
The Software Development Kit (SDK) for the iPad is the same as the iPhone; it's been updated and will be released to registered developers on Wednesday; the SDK includes a simulator that lets application developers run iPad apps on their Mac.
Hardware
While the iPad connects using a 30-pin dock connector just like an iPhone, Apple is also introducing several accessories specifically for the device. Accessories include a keyboard dock, which integrates a full-sized keyboard that uses a similar design to the Apple Wireless Keyboard now included with new iMacs. A carrying case will be offered which can prop the iPad upright to watch a movie, or cant it at an angle more conducive to typing.