One of the first people I ran into at NAMM on Wednesday was legendary recording engineer, Ken Scott. I had a chance to speak with him about his new project with Sonic Reality, EpiK DrumS.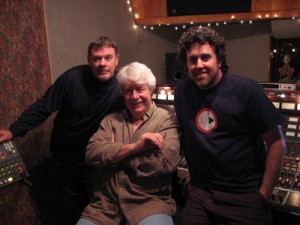 Scott and Sonic Reality President Dave Kerzner partnered to record five of the world's greatest drummers, on vintage gear, and with the character that we've come to expect from Scott. The result is something that really has to be heard to be believed.
Scott worked at Abbey Road Studios where he worked with The Beatles, Jeff Beck, Elton John, David Bowie and many other bands.
"The idea came from everyone asking me how I got that great sound years ago," Scott told The Loop. "I want this collection to be character driven."
The entire collection was recorded using the vintage Trident A-Range console. One such session in Boston was the very last one — the console was taken apart after Scott finished recording the drums for this collection.
Kerzner and Scott tapped Bill Cobham, Bob Siebenberg, Terry Bozzio, Woody Woodmansey and Rod Morgenstein to play the drums. Overall, there are more than 2,000 grooves and seven kits that have been recorded.
The kits can be mixed and matched however you want, so the sounds are almost endless. Regardless of what you choose, you will have Ken Scott engineering the sounds. That's pretty hard to match.
The kits are mapped in GM, iMap, V-Drum, Performance and Custom modes with midi learn for the ability to play from a keyboard or any electronic drum kit, according to Kerzner.
The Ken Scott drum collection costs $599 and is available from Sonic Reality.