L5 Technology is using this week's CES trade show in Las Vegas to debut the L5 Remote, a $50 accessory (paired with a free application) that turns your iPhone or iPod touch into a universal remote control. It's coming in February.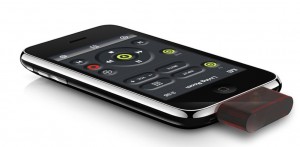 The accessory plugs into the iPhone or iPod touch's dock connector. It measures 1.25 x .85 inches. Using a free app you'll be able to download from the App Store, you drag and drop buttons into place to control your home entertainment devices.
The accessory works without batteries and will control any number of devices within about 30 feet, according to the manufacturer. It doesn't require independent batteries, Wi-Fi or external power to function.
(Although L5 issued a press release, the company's Web site hadn't been updated with info about the product as The Loop posted this news.)