Aspyr Media has announced the release of Civilization IV: Colonization for the Mac, a new standalone game based on the popular real-time strategy game series. It costs $40.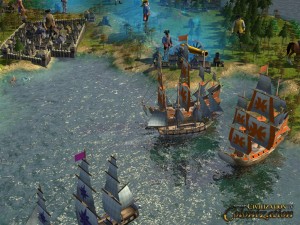 Civilization IV: Colonization puts you in charge of one of four European nations as you colonize the New World. You have to discover new territory, negotiate, trade and fight as you work your way from colony to independent nation.
This is not an expansion pack for Civilization IV, though it is the fifth Civilization IV game to be released thus far. Based on the Civ IV engine, the game features a new interface, multiplayer support for Internet and LAN-based play, tutorial guides, and more.
Civilization IV: Colonization is rated E10+ for everyone age 10 and older.
Minimum system requirements call for Mac OS X 10.5.8 or 10.6.1 or later, Intel Core 2 Duo processor operating at 1.83GHz or faster, 1GB RAM, 1GB free hard disk space, ATI Radeon X1600 or Nvidia GeForce 8600 or better 3D graphics with 128MB VRAM, DVD-ROM drive.