Namco Networks has released Ridge Racer Accelerated for the iPhone and iPod touch. It's currently available for purchase from the App Store for $2.99, which Namco calls an "opening celebration price."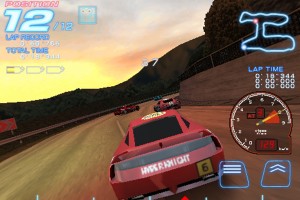 Ridge Racer Accelerated is a car racing game that emphasizes "drift" mechanics – a driving technique in which the driver intentionally causes the rear wheels of the car to break free in turns, maintaining high speed as the car exits the turn. The game features three play modes – Arcade, Duel and Survival.
Four courses (two normal courses, and two unlockable "reverse" courses) are included with the game's initial release, along with 18 cars – six unlocked and 12 unlockable. Namco plans to offer additional courses and vehicles via free upgrade throughout 2010. Eventually the game will include more than 40 courses and more than 60 vehicles.
What's more, an "Online Store" is built into the game which enables players to purchase additional content – a nine-car machine pack costs $1.99, while a six-course pack costs $2.99.
Ridge Racer Accelerated requires an iPhone or iPod touch running iPhone OS 2.2.1 or later.