I love to learn. I absorb every little piece of knowledge I can about music production and editing, from as many people as I can. These days, it's a lot easier to get that knowledge. Now, you can access the expertise of professional audio engineers, like Brady Barnett to find out what they do to make a pro sounding mix.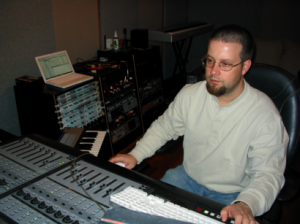 Barnett worked on the Grammy Award winning "Cold Hard Truth" (George Jones), as well as working with Faith Hill, Alan Jackson, George Strait, Brad Paisley, LeAnn Rimes, Josh Turner, Darius Rucker, Trace Adkins, Reba, Lonestar, Keith Urban, and Steven Curtis Chapman, among others. In short, he's a highly sought-after audio engineer.
In addition to being an engineer, Barnett also owns Multi-Platinum.com, a company he founded to help teach people how to record, edit, mix and master music.
In an industry that's traditionally secretive about how a great mix is made, having someone like Barnett teaching is godsend for those of us that want to learn the right way to do it. Despite lifting the veil of secrecy on how to successfully mix a record, Barnett isn't concerned about losing work to up-and-comers.
"I was a little concerned about that that," Barnett told The Loop. "I can show somebody to do what I do, but you still have to have the ears and talent. Just because you watch the DVD doesn't mean you are going to take my job."
Part of Barnett's aim in teaching digital editing is to dispel some of the myths that it has gotten over the years.
"Pro Tools has gotten a bad rap for making things sound mechaincal, but its not the software, its the engineer," said Barnett.
However, he's not doing it alone. Barnett has attracted some impressive talent to do videos for Multi-Platinum.com including John Merchant (Michael Jackson, The Bee Gees), Dave Aron (Prince, Snoop Dogg), Chuck Ainlay (Mark Knopfler, Dire Straits) and Bob Bullock (Shania Twain, Reba McEntire), among others.
All of the engineers teach you the way they approach an edit or a mix, using their years of experience as the reference. As Barnett points out, they are not there to do anything but give you pointers on how they get things done right.
"We're not product reps, we're working engineers — we do this everyday," said Barnett. "Our techniques may be different than what you see in the manual, but that's okay."
In his latest DVD, Barnett takes you in the studio for the setup and recording of several artist's songs. You go through pre-production, tracking, overdubs, gear selection, micing techniques and how the engineers interact with the musicians during the recording process.
At over 15 hours of video, this will take you some time, but as someone that watched it all, it's not only helpful, it's also very entertaining.
A spin-off of the video tutorials, Multi-Platinum Academy will begin teaching sessions over the Internet in 2010. Barnett currently has six tracks that will be taught, including Studio Production, Advanced Digital Editing, Overview of Multiple Digital Audio Workstations, Studio Etiquette, Acoustic and Electric Mic Techniques and Mixing Techniques.