Toontrack on Sunday released an update for its flagship drum sampler, Superior Drummer.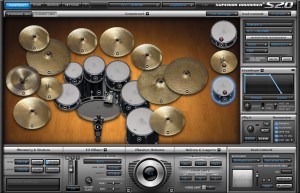 According to the company, Superior Drummer 2.2.1 includes the latest EZX and SDX kit pieces definitions support, including the upcoming Electronic EZX. The update also fixes the iMap MIDI preset offset problem experienced by users of apps like Ocean Way Drums.
Among the other changes in the update are a fix so the Memory Limit pop-up warning will no longer appear when the memory limit is off; the solo state of articulations is now fully restored when loading a project; Soft Vel and Pitching are now restored properly when loading a project; setting a Time Correction value should no longer affect playback detrimentally; changed the MidiNode broken link to all caps 'MISSING TARGET'; and drag and drop of MIDI grooves should now work even when UAC is on.
Superior Drummer 2.2.1 is available from the downloads section of the Toontrack Web site.