Virgin Mobile has recently added Mac compatibility to their Broadband2Go device, available without a contract for $99. I decided to try the device out to see how it holds up on my new MacBook – a late 2009 2.26GHz model running Mac OS X 10.6.2.
I'm still waiting for AT&T Wireless to tell me how much tethering will cost for my iPhone or when I'll be able to get it. And Wi-Fi is nice, but it's not ubiquitous in my travels. That left me shopping around for mobile broadband service, which almost all the major carriers in the U.S. offer.
I'm not big on commitments
Because of the tethering question, because I'm cheap, and because I regularly forget to pay my bills, I didn't want to get sucked into an biennial contract or a monthly charge, which limits my choices. Further limiting my choices is my use of a MacBook, which doesn't have an ExpressCard slot or a PC Card socket, so I have to go with a USB interface. Virgin Mobile scores a home run by offering everything I'm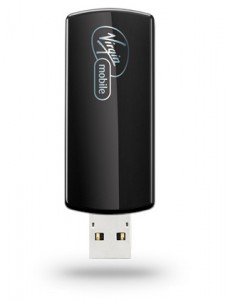 looking for in their Broadband2Go package.
Inside the box is a Novatel Wireless Ovation MC670 USB device. It's an EV-DO Rev. A-compliant wireless broadband interface that works with Mac OS X 10.3 or later (and various flavors of Windows).
The device has a glossy black top silkscreened with the Virgin Mobile logo in silver outline; a round status LED is visible near the USB interface when there's activity. On the underside is a microSD card slot, a flash media card format used by some cameras, cell phones and personal media players.
When the MC670 debuted in late 2008, it was billed as the smallest EVDO USB device available. It measures 2.24 x 0.98 x 0.47 inches and it weighs 0.67 ounces. The MC670 can easily fit in a breast pocket or pen pocket in a bookbag or briefcase. It's big enough when it's installed that I wouldn't recommend leaving it in the USB slot if you're getting ready to take your laptop somewhere, but it's trivial to take with you.
Setup
Setting up the MC670 for activation and use is trivial. The first time you insert the MC670 into an available USB port you'll see a Mac OS X-native installer application that puts Mac driver software and application software in the right place. Run it and restart, then launch the Broadband2Go software from your Applications folder. The application interface is complemented by a special menu item.
Click on the menu item and select "Program Modem," and you will automatically connect to Virgin Mobile's network and Web site. You can enter credit card info, register your device, pick a PIN number, and receive a Mobile Directory Number (MDN) and Mobile Station ID (MSID). Once the modem has been programmed, using it is as simple as plugging it in and clicking the Connect button in the software. If there's a signal, the modem will hook right up. I ran the software using Mac OS X 10.6.2 without running into any sort of problems.
But before you can use the Broadband2Go device, you must also purchase bandwidth. Virgin Mobile allows you to use a credit card, PayPal or a prepaid "Top-Up" card sold at retail locations.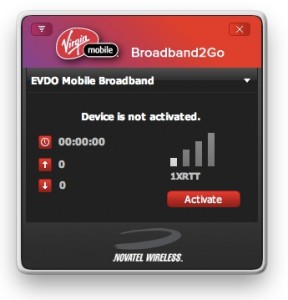 The Broadband2Go software tells you about signal strength, provides upload and download totals, and can give you configuration information about the device. And Virgin Mobile's Web site tells you exactly how much bandwidth you've used and how much time you have left before your bandwidth expires.
Pay to play
As of this writing, Virgin Mobile offers four plans: $10 for 100MB of access that has to be used within 10 days; and $20, $40 or $60 for 250MB, 500MB or 1GB that needs to be used within 30 days. Virgin Mobile estimates that 100MB will last for about 5 hours of Web browsing, 25 minutes of streaming video or 10,000 e-mails.
Virgin Mobile isn't the only vendor that offers a Mac-compatible pay-as-you-go broadband modem. Verizon's pre-paid access service costs $15 for 75MB, $30 for 250MB and $50 for 500MB. Neither T-Mobile, Sprint nor AT&T Wireless offer pay-as-you-go data plans. It's also worth noting that Verizon Wireless charges more for the same device – $169, versus $99 from Virgin Mobile.
The cost is high and the amount of bandwidth is stingy compared to monthly plans, but Virgin Mobile doesn't ding you with an early termination fee if you decide to stop using the service, and it doesn't charge you arbitrarily (though they do offer repeated monthly billing as an option if you want to make sure you always have bandwidth when you need it).
It's this latter factor that's the biggest win for me. Most of the time as I amble about in my usual work pattern, I'm within range of some Wi-Fi hot spot or another that I can use for free. But when I hit the road, I can't base my itinerary around access to cafes or sandwich shops that have free Wi-Fi.
Instead, I'm often stuck on trains without any sort of connectivity (hello, Amtrak's Northeast Corridor), or in airports and hotels that provide Wi-Fi to travelers willing to pay extortionist fees. For that sort of occasional use, Virgin Mobile's Broadband2Go is a perfect solution. And if I find I use up all the access I've paid for, it's trivial to connect and top my account up with additional access.
Performance anxiety
EV-DO Rev. A performance is rated at up to 3.1 Mbps download and 1.8 Mbps upload, but Sprint's network offers downlink data speeds average between 600 and 1400 Kbps, according to Virgin Mobile. That will, of course, depend entirely on where you're connecting from.
My own experience, living in a relatively quiet area about an hour and a half south of Boston, was that I was usually relegated to 1RXTT speeds, one notch down from EV-DO in the mobile broadband speed hierarchy. When I did get connected with a strong EV-DO signal, my downlink transfer speeds were right in the range that Virgin Mobile specified. Uplink speeds are slower, of course. I wouldn't use Broadband2Go to upload big audio or video files, but it's perfectly serviceable for light file transfer, e-mail and Web surfing – exactly what Virgin Mobile advertises it for.
Virgin Mobile's coverage map shows decent coverage in major urban areas and transportation corridors. There's a lot of "white space" showing no coverage at all, but it's mainly in rural spots and "flyover" locations where few enough people spend time that coverage isn't practical. Regardless, make sure to check out Virgin Mobile's coverage map to make sure you're in an area – and will be using it in areas – serviced by the company. It's also worth noting that Virgin Mobile offers a 30-day money back guarantee, so if you buy the device only to discover that coverage is impractical or that you just don't like it, you have a month to get your money back.
Solid value without messy entanglements
I'm quite impressed with Virgin Mobile's Broadband2Go service. It's the right price – $99 for the gear, as little as $10 for access, and no monthly charge or long-term contract to worry about. If you're a road warrior who needs wireless access where Wi-Fi isn't available, you should definitely check Virgin Mobile's service out to see if it's right for you.