I've been using Apple's newest Mac mini for the past week or so and found it to be an eminently practical desktop computer that's a solid value for the money. It's not as sexy as the new iMac that Jim Dalrymple recently looked at, but for Mac users on a tight budget – and who isn't these days – the Mac mini offers a great user experience.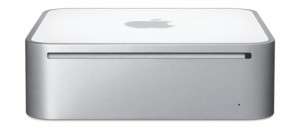 I had been using the previous generation Mac mini – the model introduced this past March. Up until that system's release, Apple had given the Mac mini short shrift, not refreshing it for more than a year. That was a significant update, changing the ports on the back, a new motherboard with faster processor and improved graphics capabilities, and such.
Evolutionary improvements
This fall update isn't as dramatic a shift, but it does bring the Mac mini up to spec with Apple's other consumer systems, incorporating in its base model a 2.26GHz Intel Core 2 Duo microprocessor and retaining a motherboard that features Nvidia GeForce 9400M integrated graphics. Meatier minimum RAM specs (2GB on the low-end system, 4GB on the high-end system) mean the integrated graphics have a little more room to work with. This isn't a hardcore gaming system or a system suitable for really heavy work dependent on the GPU, but it's good enough to get by, and my 14-year-old son finds it perfectly adequate to play games like Feral Interactive's Black and White 2 without any complaints.

Physically, the Mac mini looks identical to its predecessors – 6.5 inches on a side and about 2 inches tall, with a slot-loading 8x "SuperDrive" taking up the front. On the back is a mini DisplayPort jack and a mini DVI port (the mini can support two displays simultaneously, within reason – don't forget, you only have 256MB of RAM allocated to video to work with), Gigabit Ethernet port, FireWire 800, USB ports, audio input and output – same as before. Inside is Airport Extreme (802.11n-compliant) Wi-Fi and Bluetooth 2.1 + EDR.
Apple includes a mini DVI to DVI display adapter in the box, just as they did before. DVI's the de facto standard for most of the new flat-panel displays you'll see in stores, so it should be trivial to hook up, but if you can't make the investment and need to recycle an old analog CRT, that's not a problem – just buy an Apple mini DVI display adapter when you get your Mac mini. They're available from Mac resellers and Apple stores.
The Mac mini comes pre-installed with Apple's standard suite: Mac OS X 10.6 "Snow Leopard" and iLife '09. That's surprisingly good enough for a lot of first-time Mac switchers to get by for months without having to add anything new.
The $799 model that's joined the Cohen household comes from the factory with a 2.53GHz processor, 4GB of RAM operating at 1066MHz and sports a 320GB hard disk drive. That's about a 25 percent bump in processor speed, twice as much RAM and the same amount of storage capacity. I'm not terrifically worried about the lack of storage increase, as the device has FireWire 800 (making it better equipped than my new MacBook, which uses the same processor).
I won't be cracking the case any time soon to put in a new drive, that's for sure. Even though Apple won't void your warranty if you open one up, Mac minis are an unmitigated pain in the ass to work on, and are best left sealed unless you know what you're doing and don't mind the frustration of dealing with tiny things. I'm not so into that – hell, I even find working inside a Mac Pro to be claustrophobic at times. That's what comes with having a physique like Shrek.
I don't have a suite of benchmarking tools to measure specific aspects of the Mac mini's performance, but I clocked the amount of time it took to open applications, encode some basic MPEG-2 video segments, rip a DVD to MPEG-4 and run a time demo in a couple of games.
What I discovered is that the new Mac mini is faster, but not always proportionally faster than the old Mac mini – 500MHz more clock speed, faster RAM and a faster motherboard bus design definitely make a difference, though not always a 25 percent boost, at least not in my tests. Differences in operating systems, hard disk types and other factors may have played into my results.
I doubt the under-the-hood enhancements will make enough of a difference to switch if you already had a Mac mini that you bought earlier this year. With only seven months or less of use, you're probably still getting a lot out of your investment. But if you have a 2007-era Mac mini that you want to replace, you'll definitely notice a significant performance boost. And if you have a PowerPC-era Mac that you've been thinking about replacing, but you're on a tight budget, like me, I can't think of a better way to step up to the Intel Mac experience than the new mini.
Excellent value
The Mac mini certainly doesn't have the "wow" factor of the new 27-inch iMac, and it's not portable like the new MacBook. But it shouldn't be overlooked. It's a fine little system for users looking to get a new Mac without having to break the bank. Especially if you're thinking about buying a Mac after working with a PC, and you want to recycle a display, keyboard and mouse that are working fine, this gives you a way to do exactly that.
We continue to ride through one of the most serious economic downturns in recent memory, and Apple is keenly aware of that. With the new Mac mini, Apple has improved the performance and value of its most affordable desktop computer, keeping a great Mac experience within the reach of users who have to tighten their belts.