Other World Computing (OWC) on Tuesday announced a significant price reduction on the Axiotron Modbook, the only Mac-based tablet computer. You can now pick one up starting at $1599, $500 less than before. If you have a MacBook you'd like to convert, conversions start at $650.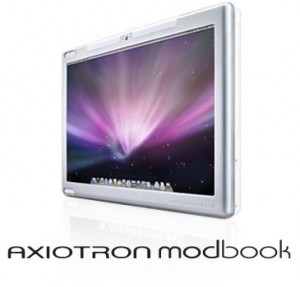 Axiotron's Modbook takes an existing MacBook – a previous-generation system equipped with a 2.13GHz Intel Core 2 Duo microprocessor – and converts it to use as a tablet-based computer. You can order a model with up to 6GB of RAM and up to 1.28TB (terabytes) of drive capacity if you choose to replace the stock internal SuperDrive with a second hard drive instead.
The system is a whole conversion for the MacBook. No longer a laptop with a flip-up screen and a keyboard and trackpad, the Modbook is a pen tablet-based system suitable for inputting graphics, written text or any other content.
The MacBook's core features remain intact – a SuperDrive, iSight webcam, Nvidia 9400M graphics, Airport 802.11n Wi-Fi networking and other features are still included, along with a mini-DVI port for external monitor support, Gigabit Ethernet, microphone and headphone jacks and more.
Snow Leopard is pre-installed, along with all other stock Apple software.
The Modbook also features built-in WAAS (Wide Area Augmentation System)-enabled GPS capabilities, "ForceGlass" screen and camera cover, and WACOM-"Penabled" digitizer with 512 levels of sensitivity and an Axiotron digitizer pen for input. You can order an optional wireless keyboard if you still want to retain keyboard input, as well.
If you have an existing 2.13GHz MacBook that you'd like to have converted to a Modbook, OWC can help with their "Bring Your Own Book" (BYOB) option. To that end, they've reduced the price on the conversion by 40 percent, to $649.99.