Exozet Games and United Soft Media have announced the release of Catan – The First Island, an adaptation of the beloved board game The Settlers of Catan. It cost $4.99 and is available for download from the App Store.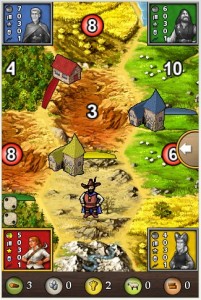 The Settlers of Catan – first published in Germany in 1995 – has received many awards and positive reviews. It's a turn-based board game divided into hexagons in which players establish colonies on the island of Catan, building settlements and cities and spending resources like wood, grain and ore. The goal is to acquire victory points through building settlements and making upgrades.
Catan – The First Island is billed as "a faithful adaptation" of Settlers of Catan, with several updates already in the work which will add expansion sets, more options and further scenarios.
The game includes hot seat-style multiplayer support, computer-controlled opponents, scrollable game board with zoom, game statistics and a comprehensive tutorial.
Catan – The First Island runs on an iPhone or iPod touch with iPhone OS 2.1 or later.