Psystar, the Miami-based PC manufacturer that's still in a protracted legal battle with Apple over selling PCs that come pre-installed with Mac OS X, has begun offering Rebel EFI – software that lets any generic PC run Mac OS X. It costs $90, though Psystar is selling it for $50.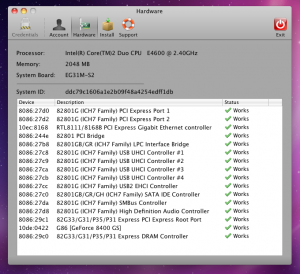 The software reportedly lets PCs equipped with Intel Core 2 Duo, Core 2 Quad, i7 or Xeon Nehalem CPUs to run Mac OS X 10.6 "Snow Leopard." A limited-function demo is available for download from Psystar's Web site.
Psystar reportedly is starting an approval program that will vet specific PC components to work with their software. "The most common hardware set-ups are compatible, and through PsyLabs we will continue to work toward the Rebel EFI supporting an ever-broader range of hardware profiles," reads a statement.
In related news, Psystar notes that Rebel EFI works with Microsoft's newly-released Windows 7 operating system.