With all eyes focused on Apple's new hardware announcements on Tuesday, you may have missed Barnes & Noble's big news: They've introduced an e-book device called the Nook. It's Barnes & Noble's answer to Amazon.com's Kindle and Sony's Reader, and it debuts in late November for $259.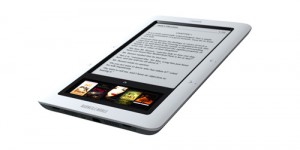 The Nook is the first e-book reader to hit the market based on Google Android, a mobile operating system based on the Linux platform that has been previously used for smart phones like the My Touch 3G — a device currently advertised heavily on television in the U.S. by cell carrier T-Mobile.
The Nook is about the size and weight of a paperback book, and uses an E Ink Vizplex display to show text — unlike an LCD display found on a laptop or cell phone, such displays are much easier to read in direct sunlight and don't require backlighting, so the device lasts very long on a single battery charge. A second display, beneath the E Ink display is in color, and shows the covers of books you have downloaded to the device. It also reconfigures to be a virtual keyboard.
Like the Kindle, the Nook downloads content from Barnes & Noble's online store wirelessly, using AT&T's 3G cell data network, or, where available, Wi-Fi. Internally, the Nook has 2GB of storage capacity, enough for about 1,500 e-books, though a MicroSD slot enables users to expand the capacity dramatically. Besides Barnes & Noble's e-books, the Nook can also read PDF and ePub-formatted files, and can hold digital photos which you can use as custom screensavers.
Barnes & Noble claims that the Nook has access to more than one million e-books, newspapers and magazines, though many of these are public domain books made available through a partnership with Google. Barnes & Noble has priced many new releases and bestsellers at $9.99 – a similar pricing strategy adopted by Amazon.com and Sony both.
One thing the Kindle and Sony Reader don't have, however, is "LendMe," a technology that enables Nook readers to lend a selection of e-books to friends free-of-charge for up to 14 days at a time. This also enables you to read books sent to you by a Nook-using friend on the Barnes & Noble e-reader software available for the Mac or PC, iPhone and iPod touch, and select Blackberry and Motorola smartphones. You will also be able to browse e-books from cover to virtual cover in Barnes & Noble retail locations.