Apple grew its U.S. computer market share, finishing the third-quarter of 2009 with 8.8 percent share. Apple's most recent numbers grew 6.8 percent over the third-quarter of 2008, where the market share was at 8.6 percent. According to market research firm Gartner, Apple sold more than 1.572 million Macs in the third-quarter of 2009 compared to 1.471 million in the same quarter of 2008.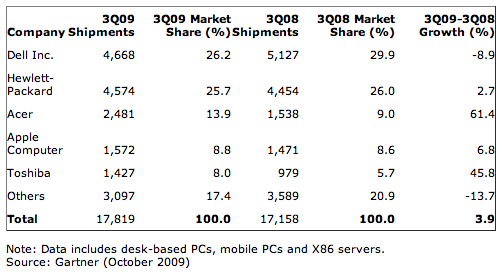 Dell remained in the No. 1 position, although its market share decreased by 8.9 percent. Dell sold 4.668 million computers during the quarter. HP top the No. 2 spot while Acer finished in third.
Apple finished in fourth overall, with Toshiba rounding out the top five.
This is the first quarter where PC shipments have increased. For all companies, total shipments grew 3.9 percent.
"These are good results especially given that PC shipments for the third quarter of 2009 are being compared to a very strong third quarter from 2008," said Mikako Kitagawa, principal analyst at Gartner. "Sequentially, third quarter shipments grew 18 percent, which is higher than the historical seasonal growth from the second to third quarter."