Drum sampler-maker FXpansion recently released a new expansion kit for users of its BFD2 drum sampler.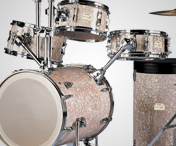 The new kit, BFD Cocktail, is based on the Yamaha Hipgig portable drum kit, developed with Rick Marotta. According to the company, the drums feature 7-ply birch/mahogany shells.
The kit includes the Hipgig 6-inch x10-inch and 7-inch x13-inch toms (played with sticks); Hipgig 20-inch x16-inch Kick Drum (played with rubber and felt beaters); and the Hipgig 5-inch x12-inch Snare Drum (played with sticks and hot-rods).
There are several articulations in this new kit including rim shots and rim clicks on the toms. The snare offers rim clicks, with the stick version also offering flams, drags and the half-edge articulation which can be used with positional sensing on suitable electronic drumkits.
BFD Cocktail was recorded at Omega Studios in Rockville, MD. The kit costs $50 for registered BFD2 users.