Apple on Tuesday rolled out a new resource on its Web site for users that want to find apps for the iPhone or iPod touch.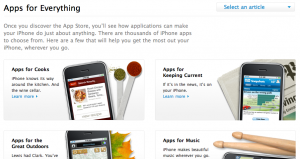 The new section, called "Apps for Everything" breaks down the apps into numerous categories. These include apps for Cooks, Keeping Current, The Great Outdoors, Music, Work, Students, Moms & Dads, Working Out, Going Out, Managing Money, Traveling, and Fun & Games.
"Once you discover the App Store, you'll see how applications can make your iPhone do just about anything," says Apple's Web site. "There are thousands of iPhone apps to choose from. Here are a few that will help you get the most out your iPhone, wherever you go."
Each category gives you a selection of apps available on the App Store and links to the app's App Store page.