Apple on Monday released an update for iWork '09 that fixes issues in all three of the productivity suite's apps — Keynote, Pages and Numbers.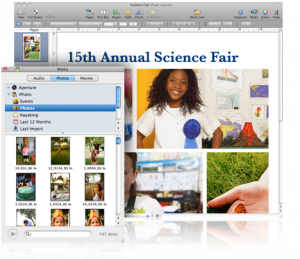 Keynote 5.0.3 fixes 10 issues, including improving the reliability of the guides by changing the display frequency and relevance. The new version also fixes a problem with GarageBand exports and an issue with updating thumbnail previews in Navigator view after sending a presentation via Mail as PDF or PowerPoint.
Keynote now also has a presentation preference for showing the slide switcher when scrolling.
Pages 4.0.3 fixes an issue where copying and pasting multiple cells containing duration or date/time values in the Chart Data Editor would only paste zeros. The update also fixes a problem with saving documents with EndNote citations containing multi-byte characters when using Mac OS X 10.6.
Numbers 2.0.3 addresses a problem with columns and categorized checkboxes, and improving the reliability of import and export of some Microsoft Excel files. An issue that could cause formulas to stop working after formatting a cell has also been fixed in the update.
There are fixes to iWork.com beta too. The update enhances security with 128-bit SSL encryption and document password protection, improves document reviewing capabilities with Comment notification features and email invitations are now sent via iWork.com instead of using Mac OS X Mail.
The update is available for download from the company's Web site or via the software update preference in Mac OS X.