Toontrack music on Thursday released a major update to its flagship drum sampler, Superior Drummer 2. The new version of Superior isn't just a maintenance release, it adds some significant new features that could change the way you use the application. Among the biggest changes is the addition of a groove player in Superior Drummer itself.
In previous versions of the plug-in you would use EZplayer Pro as the groove player. You could audition grooves and then easily add them to the Superior Drummer track in your digital audio workstation (DAW).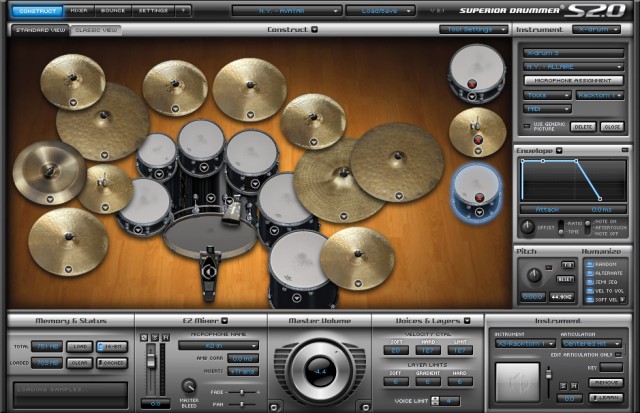 However, with Superior Drummer 2.2 the functionality of EZplayer Pro is built-in, which seems to be a fundamental change in the way the app functions. Of course, having everything built into one plug-in does make the workflow a little easier to control.
The groove player isn't the only change in this release, there are several other big additions, as well.
With the update, users now have full control over the instruments response. That means that you now have access to change the sound libraries technical and musical characteristics. You can change the response curve for a particular instrument or only for one articulation of that instrument.
MIDI nodes allows you to associate any combination of instruments — from multiple snare drums to more creative combos to be triggered simultaneously from your MIDI drum track.
Pedal correction presets have been added for e-drummers, allowing additional pedal correction profiles designed to correct all the most common foot controller hardware shortcomings.
Other changes include the ability to automate the Master Volume via MIDI Continuous Controller messages (CC7) and the addition of iMap note mapping.
Superior Drummer 2.2 is a free update for registered users.