Like most guitar players, I spend a lot of time and money making sure I have the best gear I can afford to make my tone the best it can be. One item that's often ignored when recording into the computer, is a quality audio interface. I'm not saying that you should go out and spend thousands of dollars on an interface, although that is very easy to do, but you should know what you are getting. If you just want to get a guitar signal into your computer, almost any interface will do, but if you want a quality sound, you'll need to shop around.
For the past couple of months, I've been using Cakewalk's V-Studio 100. While I was impressed with the number of features and extras the device had, the thing that caught my attention more than anything was sound quality.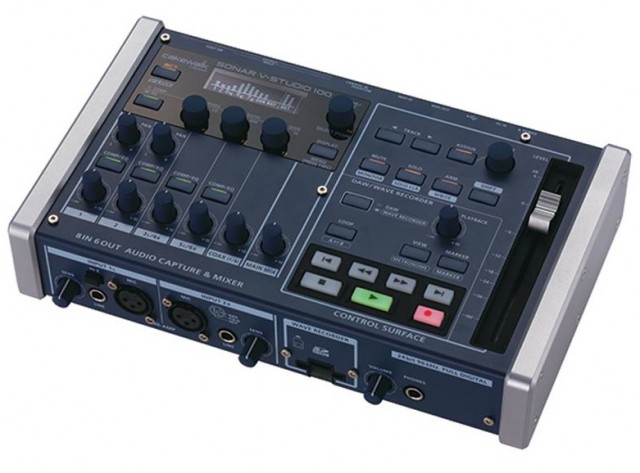 When I plugged my guitar into the Hi-Z input jack and started to play, I could immediately tell the difference in quality. In fact, the difference was startling enough that I started plugging other audio interfaces in and testing them. Most of the others weren't bad, they just weren't as good as the V-Studio.
At that point, I wasn't using an amp or any amp modeling software, just the guitar straight into the computer. I tried several amp modeling applications including Guitar Rig, Pod Farm and AmpliTube on clean and overdriven sound and the quality of the signal stood up to all my tests.
That is incredibly important. Far too often I hear people talking about how muddy their guitar signal is when trying to record into the computer. While there could be a number of reasons for that, one of the first places to look is the audio interface.
As if sound quality wasn't enough to make me like this device, it comes with a lot more. Let's take a look at the software included with the V-Studio 100.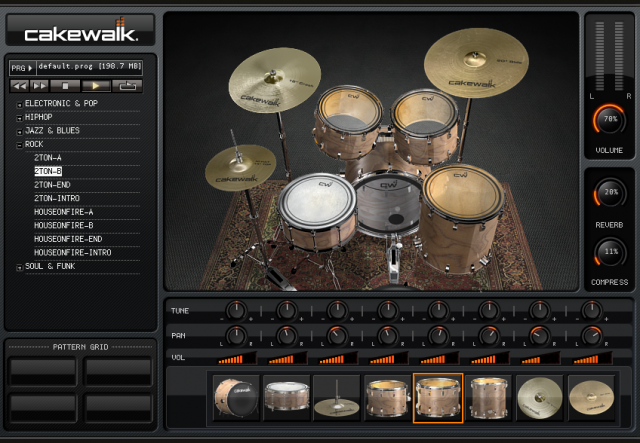 Cakewalk throws in Guitar Rig 3 LE, Studio Instruments Bass, Drums, Electric Piano, Strings, VX-64 Vocal Strip, Boost 11 Peak Limiter, Channel Tools, Dimension LE and Rapture LE. Basically, Cakewalk is giving you everything you need to create a great song.
You can also use the device as a control surface if you choose. This means that you can control the fader, transport and other controls on your DAW software using the hardware on the V-Studio 100. It's certainly a nice feature to have and makes it convenient to record and playback without having to continually reach for your mouse.
The inclusion of a digital mixer and SD Wave recorder makes the V-Studio 100 perfect for recording a rehearsal or even a live gig.
The V-Studio 100 connects to the computer via USB 2.0 and includes two 1/4-inch inputs, one being Hi-Z for guitar and bass, and two XLR inputs with phantom power. It also has a digital input, and a variety of outputs, including RCA and TRS. MIDI in and out roundup the I/O for this device.
The V-Studio 100 is a great device that I wouldn't hesitate recommending to anyone. It has great sound quality and comes packed with a lot of software and hardware features not found on a lot of competing products.