I got one of the new iPod nanos that has the built-in video camera this afternoon and thought I'd give you my first impressions.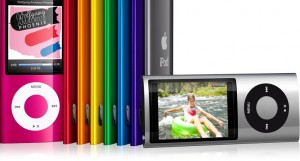 As you probably know, the nano comes in several colors including silver, black, purple, blue, green, orange, yellow, red and pink. I chose the purple one because that is the color scheme for The Loop.
The first thing I noticed about the iPod nano is the screen is a little bigger. It takes up more than 50 percent of the real estate on the front of the iPod. This is obviously a good thing because you can see more when navigating the device.
The big change in this nano is, of course, the video camera. The camera itself is on the bottom right-hand side of the iPod, which concerned me at first. The way I hold the iPod, I thought my fingers would get in the way when trying to record a video.
It turns out that the iPod must have been made for the way I hold it because I was able to hold the iPod, use the controls and record video with no problems. My fingers were actually about half way up the back of the device.
You can also record in landscape mode, which puts the camera on the top of the iPod. Obviously, that presented no problems at all.
As you would expect, the details of the iPod are brilliant. When you scroll to music or another option that has content, album art will slowly move across the bottom of the screen. Just a nice touch.
There are several games on the iPod including Klondike, Maze and Vortex. And of course, you have access to your contacts and calendars if you synced them with your computer.
The new Pedometer is under the Extras > Fitness menu. It has an area to change settings, view your settings and of course, start the Pedometer. This will be a great addition for fitness enthusiasts.
The FM radio is very interesting. You control it by using the middle select button on the nano. Clicking the button brings up the tuning dial, so you can move the wheel and manually choose the station you want.
The screen shows you what station you are on; on top of that is the station call name; and below the station is the artist and song you are listening to.
Clicking the center button again gives you a Tivo-like play/pause, rewind and fast forward button. It looks similar to the scrubbing feature when listening to songs on your iPod.
I'm definitely liking the new iPod nano.