People use their iPhones for all kinds of things like music, work, and phone calls, but one of the most popular things to do with the iPhone is social networking.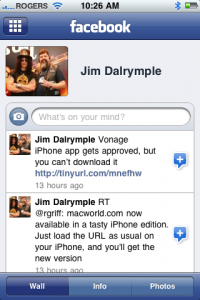 The ability to keep your friends and family updated on what you are doing — minute-by-minute if you want — upload photos, videos or just updating your status is hugely popular.
I put together a few of my favorite apps to help get you started. There are literally hundreds of social networking apps available for the iPhone, so you can browse the App Store and pick out some others.
Twitterrific: Twitter updates are among the most popular ways to keep up with people on the Web or the iPhone. The Iconfactory's Twitterrific (free and pro $3.99 versions available) is my favorite Twitter client on the iPhone.
Facebook: This is yet another popular way to get updated on the iPhone. Facebook just released version 3.0 of its app and added a lot of great new features. You can "like" a friends status, upload photos, create photo albums, and do just about whatever you can do from your computer.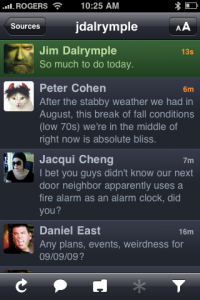 Bump: This is an awesome little app. If you meet someone and want to get their information, all you have to do is launch the app and then "bump" hands with the other person. Your Address Book card goes to them, and theirs comes to you.
LinkedIn: This service is like social networking for business people. I've been a member of LinkedIn for a number of years and it is a great way to keep those business contacts fresh. It's good to see that they made an app for the iPhone.
F My Life: This site is simply hilarious. It's a toss-up between this and Failblog for the funniest site on the 'Net. You just have to go to the site and start reading — or with this app, you can do it on your iPhone.
WordPress: A lot of people use their blog as a way to communicate with friends and family. For me, there is no better platform than WordPress. The WordPress app allows you to create and edit posts, approve comments and much more.
iReddit: A sharing site that allows users to share links and information to interesting stories around the Web, iReddit has become very popular over the last several years. This app allows you to connect to the service and share while you're away from the computer.