Adam and Tonya Engst released two new Snow Leopard ebooks on Thursday, as part of their "Take Control" series.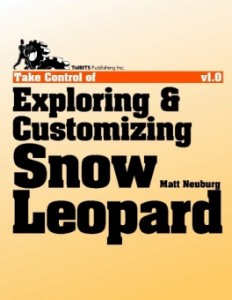 "Take Control of Upgrading to Snow Leopard," was written by Joe Kissell and covers the upgrade progress of Snow Leopard. The 81-page book helps you look at many aspects of the upgrade process from evaluating your current hardware to understanding what the installer will do.
Kissell's ebook costs $10 for the downloadable PDF and $19.99 for the print version.
The second book, "Take Control of Exploring & Customizing Snow Leopard," is a Matt Neuburg book that focuses on performance and stability. With this 165-page book, you will get tips on file and folder organization, Spotlight, Time Machine, and many of the other core features of Snow Leopard.
Neuburg's ebook is available for $15 in PDF format or $27.99 for the print version.