In a first for the company, Toontrack Music on Friday said it is allowing a third-party producer to make an audio expansion kit for its platform.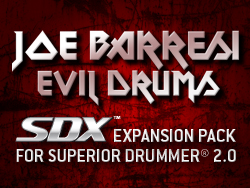 They didn't just let anyone produce the expansion kit. Joe Barresi Evil Drums for Superior Drummer 2.0, is done by Platinum Samples and Joe Barresi.
The first release between Platinum, Barresi and Toontrack is planned for the fourth quarter of 2009. The release is designed for use with Toontrack's flagship drum sampling product, Superior Drummer 2.0.
Barresi is an American engineer and producer that has worked with Kyuss, The Melvins, Queens of the Stone Age, Tomahawk, L7 and The Jesus Lizard. He also worked with Tool in 2005 on their album.
Pricing for the expansion kit was not released.