Here's an interesting new product.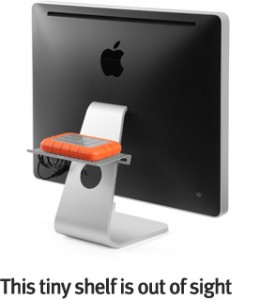 Called BackPack, the new product from Twelve South adds a perforated metal shelf to the back of your iMac or Cinema Display. The shelf is designed to get your peripherals out of the way, so you still have access to them, but allows you to reduce clutter.
According to the company, BackPack uses two adjustable clips to attach itself to the back of the iMac or display. The clips also allow you to adjust the shelf to your desired height.
While Twelve South is a new company, the people behind it aren't. Andrew Green was a former executive of Griffin and DLO, both long time accessory makers for the Apple products.
BackPack is available for $29.99 from the Apple store and online.