Amazon on Saturday began taking orders for Apple's new version of Mac OS X, Snow Leopard.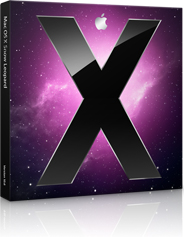 Amazon has the client and server versions available, as well as the Mac Box Set. As Apple announced at its Worldwide Developer Conference, users of Mac OS X Leopard will be able to purchase Snow Leopard for $29, the price quoted on the Amazon page.
Snow Leopard Server is also available for pre-order on the site for $499.
If you are upgrading from a version of Mac OS X before Leopard, Amazon says you must buy one of the Mac Box Sets. The single client version, which includes iLife, iWork and Snow Leopard, costs $169. The family pack, which includes a five-user license costs $229.
Amazon's pages do note that the product will not be available until September.
Apple's Mac OS X site does not offer pre-orders, but is offering a notification service, so users can be notified when the operating system is released.