Ask Video on Tuesday released a new collection of videos for users of Ableton's Live 8 software.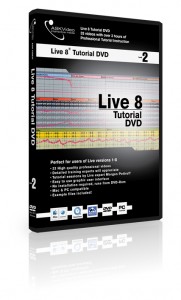 Morgan Pottruff will teach you the basics like Installation, Setup, The Menus, Browser, The Control Bar, and The Mixer and takes you through Warping, Effects, MIDI and ReWire, in the first DVD. The second DVD will cover the Looper, Cue Monitoring, DJing with Live and Drum Rack before advancing to Clip Envelopes, Sampler, File Management and Control Surfaces.
The second DVD also has a few tips and tricks for advanced users.
Live 8 Level 1 and 2 Tutorial DVDs are available for pre-order at a 20 percent discounted price of $39.99 each or $75.99 for the bundle.  Regular price is $49.99 each or $89.99 for the bundle.