Drum loop specialist Beta Monkey on Monday announced the forthcoming release of Double Bass Mania III. The collection will be available on July 9.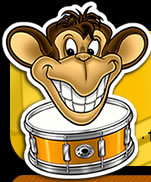 Double Bass Mania III works seamlessly with applications like GarageBand, Logic Pro, Cubase and Pro Tools, to name just a few. As you can probably guess from the name, this is the third in Beta Monkey's series of hard rock and metal drum loops. Double Bass Mania III: Extreme Metal features more than 666 loops in total.
Beta Monkey said they targeted this release for users of different genres of metal including Death metal, Black metal, Thrash metal, Thrashcore, Grindcore and Deathgrind. The package includes double bass grooves, variations, fills, one shots and comes in tempos ranging from 180 to 240.
All of the loops included in the Double Bass Mania III collection are taken from the same recording session. You also get a multi-velocity sample collection, as well as the grooves.
Double Bass Mania III is available in 16/44 or 24/44 WAV and Apple Loop (AIFF) format. REX2 format will be available at a later date.
Beta Monkey's Double Bass Mania III will cost $39.99 and will be available as a download or on disk.