An armed robber shot and injured an Apple employee at Apple's Clarendon retail location has left one person injured, according to a report on NBC Washington. "We are shocked by this senseless act of violence and our thoughts are with this co-worker and her family," Apple spokesperson Steve Dowling, told The Washington Post. "We're working with police to catch the person who committed this act."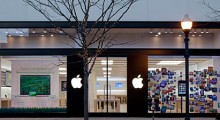 Police have the store roped off and are searching the surrounding area with helicopters and K-9 units. The suspect is only described as an adult male.
According to AppleInsider, witnesses heard what appeared to be a gunshot from the back of the store and then heard a woman scream.
The Washington Post is reporting that the suspect rang a doorbell in the service entrance of the store. The female Apple employee was shot in the shoulder and was taken to hospital. Her injuries are not life threatening.
Police said they are going to release security video to help in apprehending the suspect.
Update: Added information from The Washington Post.