Apple has okayed the first softcore porn app, that I'm aware of, on the App Store. Of course, whether this is porn or not depends on your personal definition of the genre. "Hottest Girls–2200+ Topless, Sexy Babes and Nude Models" shows girls that are topless and completely naked, as well as girls in lingerie, bikinis, and of course, girls posing with cars.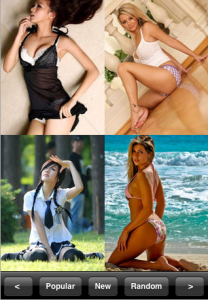 Where would we be without the obligatory "girl posing with car pictures."
I actually think this is a good thing. Not because I can buy an app with pictures of naked girls, but because it shows that Apple has confidence in iPhone OS 3.0. One of the new features of the new operating system is parental controls for applications.
This is very significant. As popular as the App Store is and even though the company features some great apps, Apple is always getting nailed because it would reject an app due to "objectionable content."
Now they don't have to worry about that anymore. Apple can be more forgiving when reviewing an app for inclusion into the App Store, by making sure it is rated properly. For instance, the "Hottest Girls" app is rated 17+. If I activate parental controls on my daughter's iPhone, she can't download that app. It's that simple.
I like the thought that I have more control over what apps I choose to download than Apple does. I like Apple being in the role of provider, rather than trying to be the gatekeeper of what is objectionable and what is okay to me to have on my iPhone.
In short, we are headed in the right direction.
I don't expect Apple is going to go approving apps willy nilly, but it is nice to see that it can rely on the software to help its user choose appropriate content.