I have never seen a happier group of developers. Over 5,000 of them gathered in San Francisco this week for Apple's Worldwide Developers Conference (WWDC) to work with Apple engineers and see what the company will offer in the next iPhone and Mac OS X releases.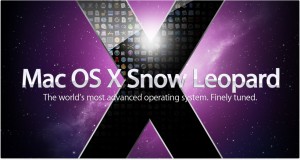 The reason they are so happy is because they believe in what Apple is doing. That's a great thing for the consumers. If the developers are onboard with decisions the company is making, we will see better products for the iPhone and Mac platforms.
"My takeaway from WWDC is that Apple is taking care of business," Daniel Jalkut, founder of Red Sweater Software, told The Loop.
While most of the media attention at WWDC is focused on the iPhone, there are changes to Mac OS X Snow Leopard that will benefit every user. Apple has said that this is a maintenance release, but it's turned out to be a lot more than that.
On the surface, Snow Leopard may not have all the flashy glitz and glamour of previous releases, but the operating system is going to be much faster. Not only that, it will make third-party apps faster and more stable.
This will have a dramatic affect on the way we work with the operating system on a daily basis. Not as many spinning beach balls or even waiting for an application to open before we can get something done.
For instance, Apple says that Mail loads messages 85 percent faster and conducts searches up to 90 percent faster. They also made the Finder, Mail, iCal, iChat and Safari 64-bit applications and Snow Leopard's support for 64-bit processors makes use of large amounts of RAM.
"The biggest advantage of Snow Leopard is that it gives us better performance," said Ken Case, president of The Omni Group. "It gives us tools to optimize the apps and to leverage the horsepower inside the Mac. That makes out apps more effective for users."
Apple has provided developers with what was described by one developer as an incredible set of tools.
"They keep making the tools so much better," said Jalkut. "That enables us to have workflows for development that can save us days."
Saving days of development means less frustration figuring out bugs, which means developers can release their products faster and then move on to developing other products.
The end of PowerPC
One of the causalities of Snow Leopard will be PowerPC-based machines. The new operating system requires a Mac with an Intel processor, which leaves old machines out in the cold.
Honestly, this can't be a big surprise. Apple moved on from the old architecture years ago–it's about time they move forward with Mac OS X and drop support for PowerPC machines.
The affect of not moving on is that all the modern users suffer. Speed enhancements, optimizations and stability of the OS is being hampered by continuing to support legacy Macs.
"Nobody is freaking out about Apple dropping PowerPC," said Jalkut. "I don't want Apple supporting something that is going to slow them down."
iPhone OS 3.0 a clear winner
Of course, the buzz around WWDC this year is iPhone OS 3.0. Apple demoed the new operating system, showing off many of its new features.
One of the things Apple did for developers with the new release is give them access to new APIs, allowing them to build more complex apps, adding features like in-app purchases. With the OS on the verge of release, developers expect big things.
"People are flocking to the platform and demand will be high," said Chris Diskin, founder of iPhone development company Nodconcept.
With the amount of more complex applications about to flood the market, you have to wonder if the iPhone is truly becoming its own development platform. Is it separate from the Mac to the point where iPhone developers are a group of their own?
Judging from the amount of iPhone-only developers at the conference, that answer has to be an emphatic yes.
"I mentally made that transition last August," said Diskin. "I am sitting here with a computer in my pocket that I can also use as a phone."
Bottom Line
With iPhone OS 3.0 a week away from release and Snow Leopard coming in September, consumers have a lot to look forward to. Judging from the reaction of developers at the conference, we are going to see some very innovative applications in the next few months.